November is the month of Thanksgiving! We have so much to be thankful for here at CPNS. Our teachers took the time to share what they are thankful for on our hallway bulletin board. Our families are showing their thanks for the blessings of food and family by donating to our Thanksgiving Food Basket. These donations will help the church feed 150 families this holiday season.
Our CPNS students are working hard on their "Turkey Tango" for our Thanksgiving programs on November 25 and 26. Family and friends will join us to watch their little Native Americans and Pilgrims sing and dance. And, of course, the program will end with a Thanksgiving feast of corn and pumpkin muffins, Thanksgiving trail mix and apple juice.
We will be closed on November 7 and 8 for the NJEA Teacher Convention. We hope you enjoy some extra time with your children. We will also be closed on November 27-29 for Thanksgiving weekend. We wish you all the warm blessings of family, friends and yummy food!
________________________________________________________________
Celebrate the Birth of Christ with us at the First Presbyterian Church of Cranbury!
Sunday, December 1 (1st Sunday of Advent):  
10:30 a.m. Worship Service
Sunday, December 8 (2nd Sunday of Advent):  
9:45 a.m. Christmas Nativity Processional: From 84 North Main Street walk with Mary and Joseph stopping at "the Inn" (The Cranbury Inn) ending in our Sanctuary and joining in caroling before Worship.  
10:30 a.m. Worship Service  followed by UrbanPromise International Sale during coffee hour
Sunday, December 15 (3rd Sunday of Advent):  
10:30 a.m. Lessons and Carols Worship Service followed by the Annual Christmas Luncheon
Saturday, December 21:  
5:00 p.m. Blue Christmas Service
Sunday, December 22 (4th Sunday of Advent):  
10:30 a.m. Worship Service
Tuesday, December 24 (Christmas Eve):  
5:00 p.m. Service of Bells for children of all ages; 
9:00 p.m. Candlelight Communion Service 
11:00 p.m. Candlelight Communion Service
_________________________________________________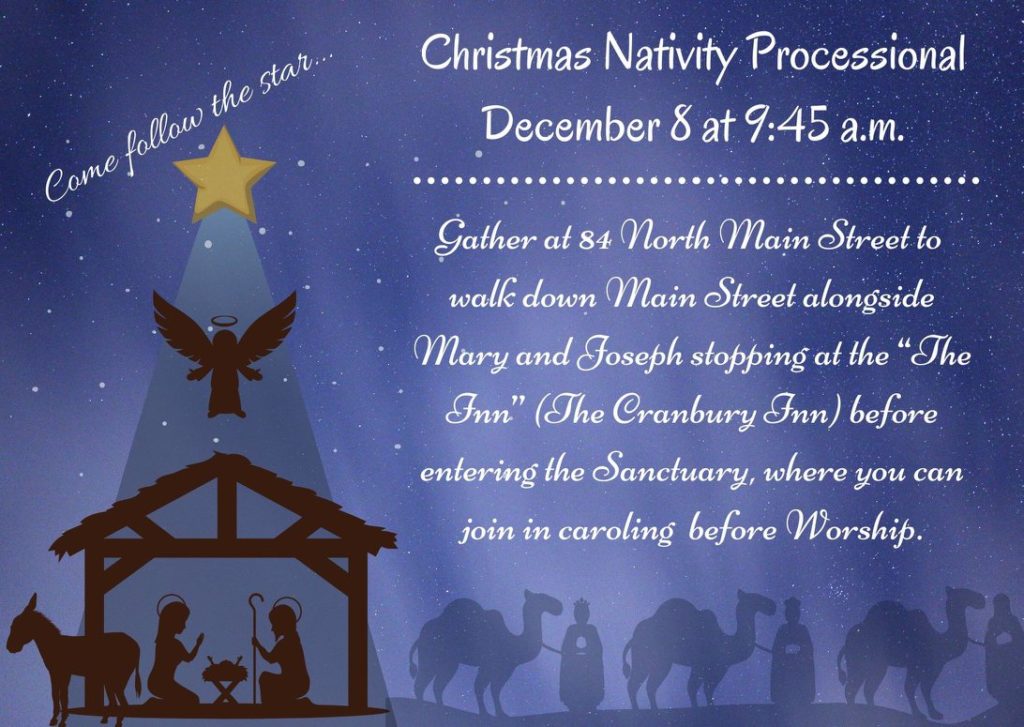 ---
We received notification that the Cranbury Presbyterian Nursery School has achieved a new five-year term of accreditation by the National Association for the Education of Young Children (NAEYC) for earning the mark of quality. The accreditation decision is based on the adjusted score and CPNS had scores of 100+ in all ten standards. These standards include; relationships, curriculum, teaching, assessment of child progress, health, teachers, families, community relationships, physical environment, and leadership and management. We are blessed to continue to provide children and families of our church and community with the developmentally appropriate academics they deserve, in a Christian environment .